8 min read
All across the world, thousands of people head to night shelters and food banks to volunteer for Christmas.
The Christmas season seems to bring out the best in us, inspiring donations of both time and money. And it makes sense, since this time of the year is all about giving. 
Most schools and businesses close at some point between Christmas and New Year, which means more people have time to volunteer.
But volunteer work focused around a specific date has a downside. Often organisations have to turn prospective volunteers away due to too many requests in December. 
They do, however, accept donations, so people wanting to volunteer can still make a contribution. And, volunteers who would prefer to donate their time can volunteer at another time of the year.
The benefits of Christmas volunteering
While both donating and offering your time are welcome, there are many benefits to volunteering over Christmastime.
Many of us wouldn't have free time to volunteer if it weren't for the holiday season. And, even if you did, the entire family might not be able to volunteer together at any other time of the year due to conflicting schedules.
For many people, the holiday season can be a stressful or lonely time. This might be because of too many family commitments or longing for loved ones who you can't see over the festive season.
By volunteering during the Christmas period, you can connect with your family on a deeper level, make a positive impact, and chase away any anxiety associated with this time of year.
And if you decide to volunteer alone, you'll have a chance to connect with other volunteers from around the world – and maybe make lifelong friends.
Why volunteer abroad?
Volunteering abroad is the perfect way to donate your time and energy to those who are vulnerable during the holiday season, especially if your local organisations are already stocked up on volunteers.
While volunteer organisations in your town or city may have plenty of extra hands to spare on Christmas Day, a town in another country might not.
This is why we ensure that almost all of our community-development projects around the world run throughout December, and over Christmastime too.
Where to volunteer this Christmas?
We have plenty of volunteer opportunities over the festive season, including teaching, public health, women's empowerment, construction, and participating in gender-equality programs. 
Christmas volunteering in Ghana
Volunteer work in Ghana includes teaching and women's empowerment. During this time of the year, you can expect hot, tropical conditions with an average temperature of 32°C (89.6°F) and little rainfall.
This is the perfect alternative to a traditional snowy Christmas, because Ghana is a popular beach destination too. The tropical climate is an invitation to visit cities like Kokrobite,  where our community projects are based.
Nativity plays are popular, and Christmas is a time for families to reconnect and share gifts. And, instead of a traditional European Christmas meal, families feast on West African delicacies like grilled fish and tomato, or peanut stew served with a freshly made dough called "fufu".
Be sure to greet everyone with "Afishiapa", which means "Merry Christmas and Happy New Year" in Akan – one of the 250 languages and dialects spoken in Ghana.
Kokrobite is a town located along the Atlantic Coast, and our volunteer projects are a great way to learn the customs of this community. Here, you can also pick up a few words in the local dialect, Ga. 
Schools close mid-December, and so do our women's empowerment classes. So, if you start volunteering at the beginning of December, you can spend Christmas Day sightseeing in Kokrobite.
Ghana's cosmopolitan capital city, Accra, is just under an hour's drive from Kokrobite.
Shop for local handicrafts at the Makola Market, soak up the sun at Labadi Beach, and learn more about Ghana's independence by visiting a monument in honour of Ghana's first president, Kwame Nkrumah.
You can also take a trip to Kakum National Park, about three hours from Kokrobite by car. Here, you'll be able to spot elephants and monkeys in the midst of the densely forested reserve.
Christmas volunteering in Peru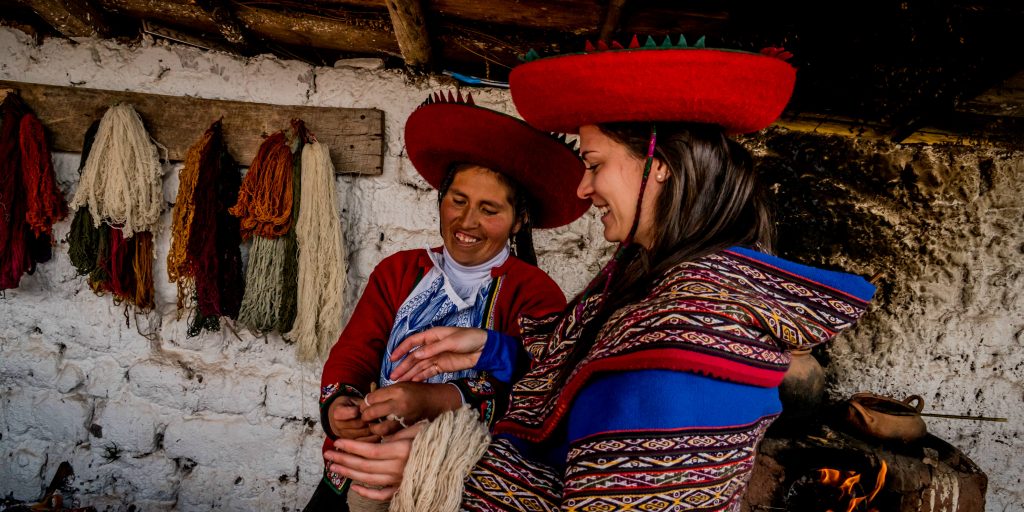 Volunteer work in Peru includes teaching and community development. You can expect warm, dry conditions with an average temperature of 21°C (70°F).
Our projects are based in Cusco, where you'll find some of the best places to go for Christmas. Since most of the population identifies as Catholic, Christmas is a big celebration, and festivities light up the city starting in late December.
On a women's empowerment program, you'll work with women in the community, and learn how traditional Andean textiles are made from local alpaca wool and natural dyes.
Our sustainable development projects in Peru are based in a small, rural community that still follows many of the practices that date back to the time of the Incan Empire. 
Here, you can polish up on your conversational Spanish skills, and even learn Quechua, the language originally spoken by the Inca people. 
Make sure you stick around until Christmas Eve, for the huge annual market known as Santuranticuy, or "The Sale of Saints".
Nativity scenes are more common in Peru than Christmas trees. At the market, you'll be able to purchase dolls to use in home nativity scenes. This is a must-visit for those who love miniatures, local handicrafts and collectibles.
In the evening, visit Santo Domingo Cathedral for the Misa de Gallo, or "Rooster's Mass". Afterwards, enjoy a hot chocolate or a Peruvian type of eggnog known as "ponche".
And, if you're in Peru over New Year, you'll see the streets of Cusco erupt in cascades of yellow ribbons and flowers. The colour represents good luck in the new year.
On New Year's Eve, gather in the Plaza de Armas – the city's main square – to eat 12 grapes before the clock strikes 12 – an age-old Spanish tradition.
Christmas volunteering in Cambodia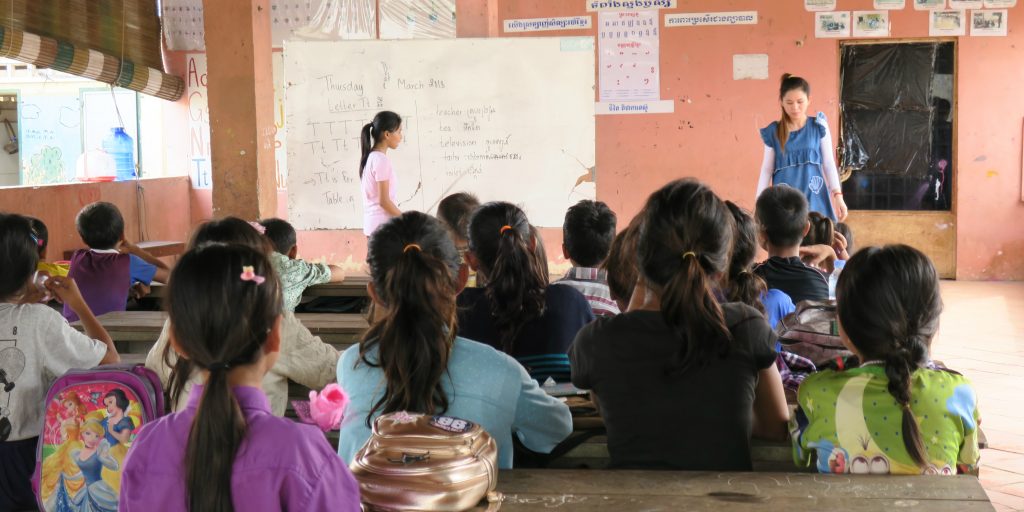 Volunteer projects in Cambodia include teaching novice Buddhist monks, public health, early childhood development and women's empowerment. You can expect hot and tropical weather conditions, with an average temperature of 26°C (80°F).
Cambodia is the perfect getaway for those looking to learn about Christmastime in another country. Most Cambodian people follow Buddhist practices, which means that Christmas isn't really a national affair. 
Siem Reap, where our projects are based, is one of Cambodia's biggest cities, as well as the gateway to the Angkor Archaeological Park. It's also an easy place to travel from if you're looking to see more of Cambodia. 
The major Cambodian festivals take place between late September and early November. Pchum Ben takes place in September, to honour the souls of the ancestors.
One of the most widely attended events in Cambodia, is the Cambodian Water Festival or Bon Om Touk, which takes place sometime in November or early October. It commemorates the time when the Great Lake reverses its flow, and the event is celebrated with competitive boat races. 
If you're interested in volunteering in Cambodia, you'll be glad to know that none of our projects are disrupted during December, so you can volunteer in Cambodia on Christmas Day. 
Christmas volunteering in South Africa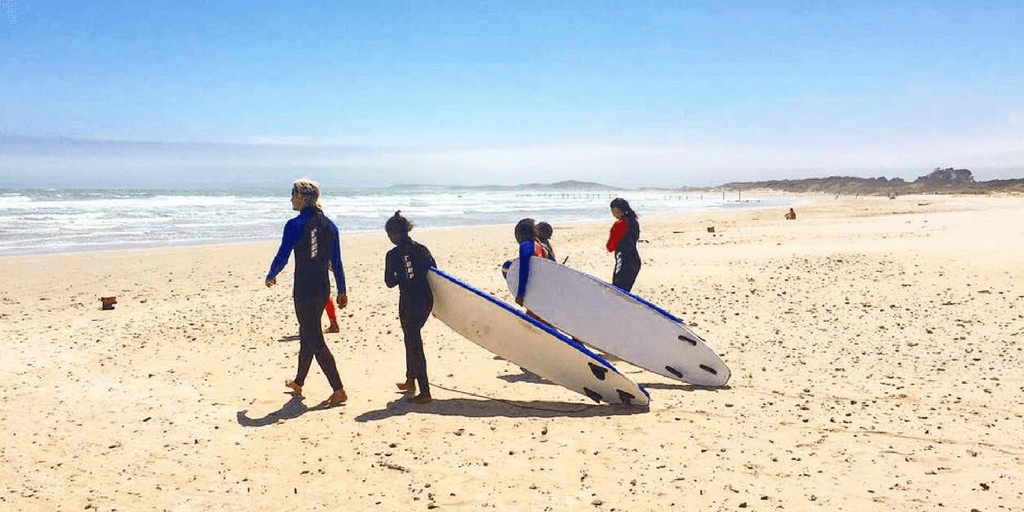 In South Africa, volunteer opportunities include volunteering with children, teaching, sports, public health and women's empowerment. Here, you can expect sunny, warm and dry weather with an average temperature of 25°C (77°F).
Christmastime is the summer-holiday season in South Africa. Many local people head to the beach during December to swim or surf in the warm waters of the Indian Ocean, or the refreshing Atlantic Ocean.
You'll also find many South Africans spending the long summer afternoons enjoying a traditional barbeque, known as a "braai", with their families and friends. 
South Africa has absorbed a diversity of colonial influences over its history, including Dutch, Portuguese, French, German and British. This means that some aspects of traditional European Christmases are well established here, and Christmas is a wide-spread celebration.
Homes are decorated with Christmas trees – faux or real – under which presents are laid out. Many South Africans will celebrate Christmas Eve or Christmas Day with a big family meal.
Our community-development programs in South Africa are based in Cape Town. Here we work at a nearby community centre, where we run women's empowerment projects with local women.
We also volunteer at several pre-primary and primary education facilities in the area, where we support local teachers with language, maths, sports, and health lessons.
Although December is the holiday season for South African students, we run a range of summer-school and supplementary programs throughout this time.
South Africa is a country with 11 official languages. This means that visitors are sometimes confused about how to give a traditional holiday greeting. A friendly "Merry Christmas" will be enough.
In fact, English is the most widely spoken language in Cape Town, followed by Afrikaans, in which "Merry Christmas" translates to "Geseënde Kersfees". 
You can also try out "Merry Christmas" in isiZulu, "Jabulela Ukhisimusi", or isiXhosa, "Krismesi emnandi". These are the two most commonly spoken languages throughout the country. 
Christmas volunteering in Nepal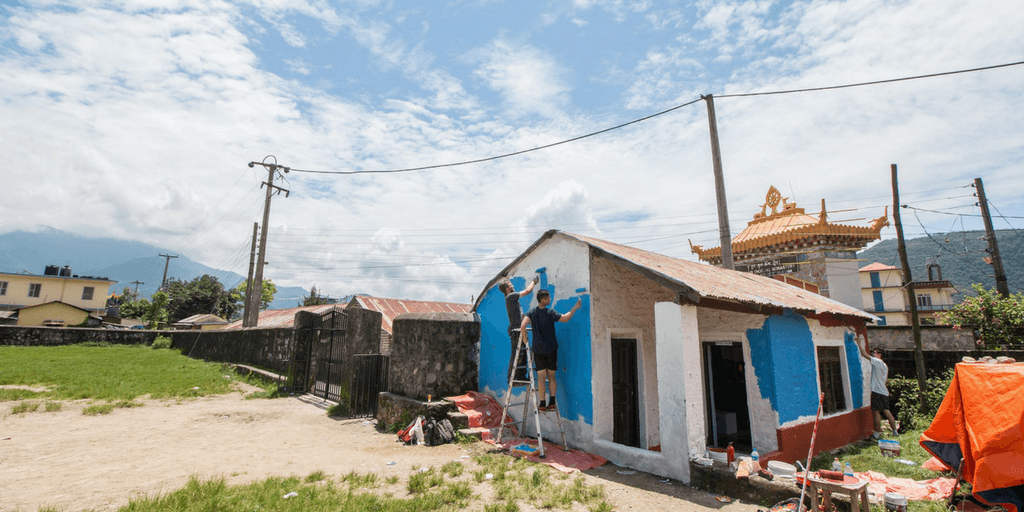 Volunteer opportunities in Nepal include volunteering with children, public health, construction, and women's empowerment programs. Here, you can expect cool, but sunny weather, with an average temperature of 19°C (66°F).
Our community development projects in Nepal are set in Pokhara. The city is situated at the foot of the Annapurna mountain range, home to some of the highest peaks in the world. 
Phewa Lake is located nearby, and in the centre, you can find a tiny island where the small but culturally-significant temple, the Tal Barahi, is set.
Nepal is a primarily Hindu state. This means that Christmas is not a major festival. But, December is the rice-harvesting season, and big events take place in Pokhara to commemorate this time of the year. 
The event celebrates Annapurna, the goddess of food, and commences on 28 December. And, it's followed by the Phewa Festival on 1 January.
Both festivals take place on the edge of the Phewa Lake in an area known as Basundhara Park. 
December is a great time to visit Nepal to learn about the cultural attractions the region has to offer. The lakeside streets are lined with dancers and musicians, as well as food and craft stalls. These attractions fill the air with delicious smells and Nepali folk-music. 
An earthquake in Nepal in 2015 left a significant amount of infrastructure and monuments of national and spiritual significance damaged or destroyed. 
Although it's been years since the earthquake hit, there's still a lot of work that needs to be done to assist communities in overcoming the after-effects of the earthquake. And, as a volunteer, you can make a positive contribution in a number of ways. 
You can get involved by assisting with educational facility repairs, like painting and light construction. These activities aim to contribute to the objectives outlined in the United Nations Sustainable Development Goal (UN SDG) 4: Quality Education.
As a GVI volunteer in Nepal, you can also contribute towards creating awareness around health and well-being by conducting preventative public health workshops.
You could also volunteer on our women's empowerment program in Nepal. Here you'll support Nepali women to empower themselves socially and economically. 
If you and your family still crave the sight of Christmas snow after working on one or more of these projects, you can trek to Everest base camp as part of a weekend trip. 
While in Nepal during December, you'll learn to say "Namaste" instead of "Merry Christmas". Namaste means "I salute the god within you". What better way to honour the spirit of the festive season than by acknowledging each other's values and experiences?
Find out more about GVI's top Christmas volunteering opportunities, and get ready for a festive season you'll never forget.