12,220 Views
Volunteering abroad endows you with the scope to travel and explore a country with the locals, and the experience you gather would last a lifetime. Summer is the best time for enthusiastic participants to set sail and travel abroad to volunteer.
Most of high school, college or university students aim to optimize their summer break and engage themselves in quality learning. In the post-pandemic times, it's important that you consider traveling responsibly and make the most of your journey by contributing meaningfully towards change.
Volunteering Solutions has a bunch of affordable programs in various locations across the world, where you can travel and volunteer in 2023 – 2024 to make a difference and utilize your summer break in the most brilliant way possible!
Best Summer Volunteer Abroad Programs in 2023 – 2024
The Childcare Volunteering Program in South Africa, Cape Town is aimed at the welfare of the local community and underprivileged children in the society. Volunteers joining this program work in childcare centers, safe houses for women and children, or in a home for physically and mentally challenged children.
All volunteers usually work alongside local staff or supervisors at the project and plan different activities with the children as well. All Social Welfare and childcare projects are keen to have volunteered so that they can bring in new ideas and also help the overburdened staff. The projects are located in Cape Town's townships and suburban areas which are socially disadvantaged areas of the city.
Duration of The Program: 2 weeks
Location of Project: Cape Town
Minimum Age Requirement: 18 years
What can you do on weekends?
Go for the wildlife safari during the weekends, or spend time relaxing on the beaches of Cape Town. Hike up the Table Mountain for a stunning view from the top. If you are an adventure junkie, then you would absolutely love this country. Go for the Bloukrans Bridge Bungee Jumping, which is said to be the highest bungee jumping spot in the world. You can also go for a Shark Cage dive or normal Scuba Diving.
Explore the city of Cape Town, visit the local markets, take a tour of the towns in the outskirts, and binge on some local food. There are so many things to do in South Africa that one may fall short of time. You can seek help from our in-country coordinator, to plan your weekend trips.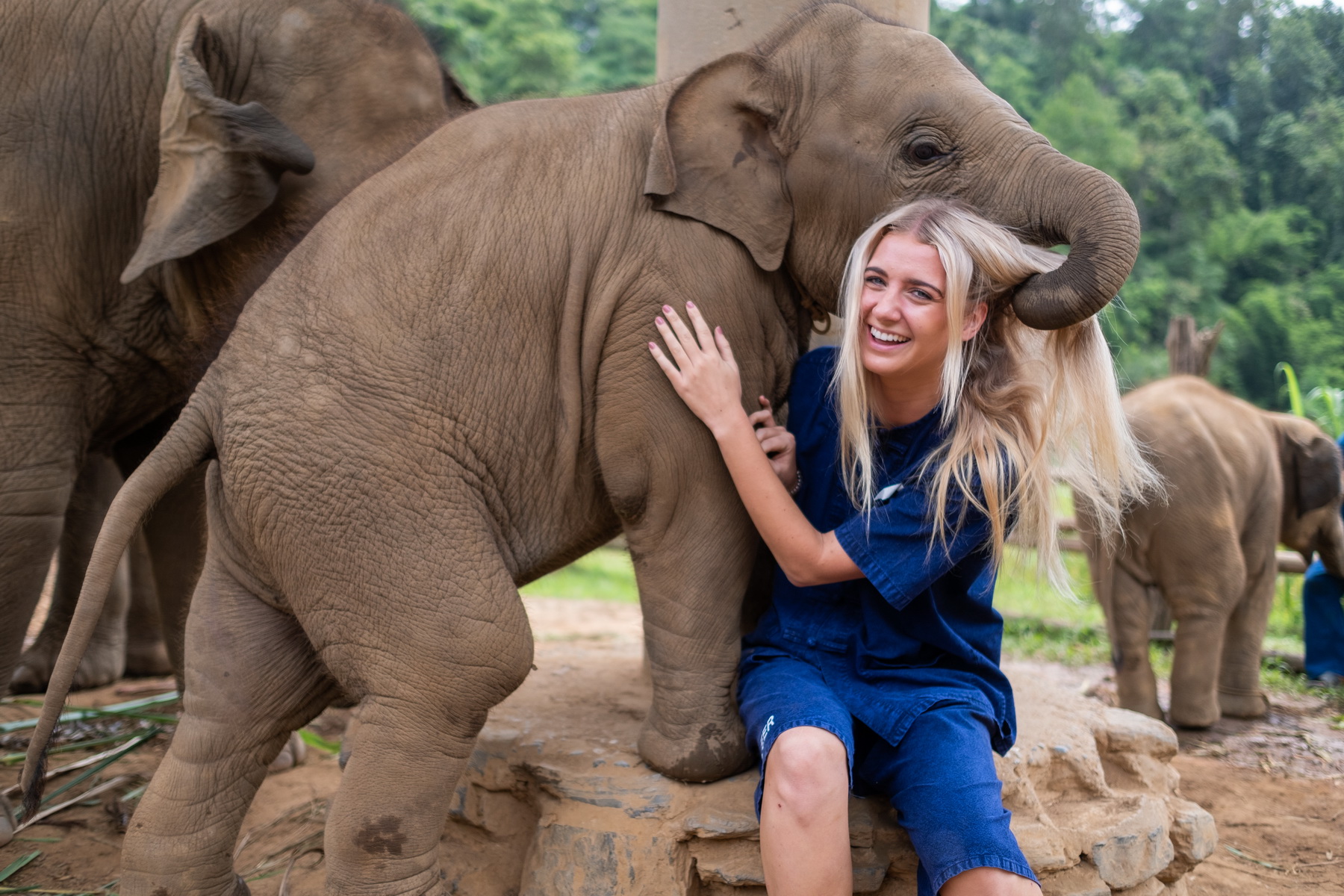 The Summer Volunteer Program in Thailand with Volunteering Solutions will allow you to experience the authentic Thai way of life while contributing meaningfully to society.
For 3 weeks, this program is perfectly suitable for college as well as high school students, gap year students, families, corporate groups, first-time solo travelers as well as experienced adventurers who are keen to explore Thailand responsibly.
Being a volunteer, you will get a chance to support the underprivileged communities of Thailand, and volunteer with little ones in Bangkok & spend some quality time with the elephants & mahouts in Surin. Experience the thrill of a jungle trek at Khao Yai National Park, explore the bustling markets of Bangkok, binge on delicious Thai food, and learn to cook some authentic dishes as well.
Duration of The Program: 3 weeks (Extended Beach Week at Koh Phangan is available at an extra cost)
Location of Project: Surin, Bangkok
Minimum Age Requirement: 17 years
What can you do on weekends?
In Surin, there are many local bars, shops, and restaurants in the town plus a night food market. The city is an extremely safe place to stay. Surin province once belonged to the Khmer empire (now Cambodia) so you'll find scattered ancient temples from the same period as the temples of Angkor in Cambodia. The land border crossing into Cambodia is located just an hour from Surin and is easily accessible from the town's bus station. This accessibility allows volunteers to travel to Cambodia during weekends.
The childcare volunteering project in Valencia is facilitated to assist children from underserved backgrounds, and work entails tutoring them after school hours in a community center. Volunteers can also assist the local staff in day-to-day administrative tasks as well.
The project lets participants understand the workings of a local care shelter and its role in taking of the local community. Working at the project is also a good way to work on one's Spanish skills. Another advantage of working in the countryside region that is Valencia is the opportunity to explore its natural beauty and travel around post the volunteering work hours.
Duration of The Program: 3 weeks
Location of Project: Valencia
Minimum Age Requirement: 18 years
What you can do on weekends?
There is a lot to do during weekends and on weekends. On weekdays, volunteers usually work from morning to afternoon and the rest of the day volunteers will have time to relax, go to the beach, join our cultural activities, explore the city, practice sports and go for tapas. On the weekends, volunteers can travel by train or bus to Barcelona or go to the main Valencia town as well. While in Valencia, you can explore the beautiful relaxing beaches, the futuristic city of Arts and Science and the old maritime quarter of El Cabanyal. Valencia is rich in culture and heritage and has more than 15 km of beaches. In Denia, volunteers can relax in a quiet town and get immersed in the local culture and life.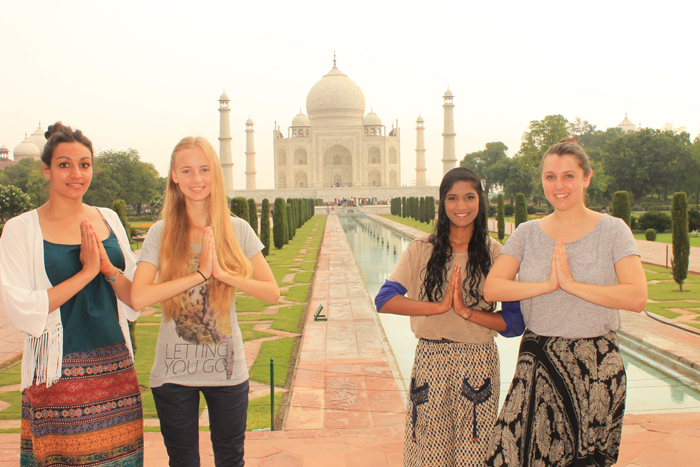 The Summer Volunteer Program in India with Volunteering Solutions will let you experience the best that India has to offer in just 3 weeks! This project is designed to give you a meaningful travel & volunteering opportunity as well as connect you to the cultural, historical, and popular highlights of the major north Indian cities.
Being a part of this project, you will mostly work with underprivileged children in Delhi & Palampur. On weekends, you'll have the leisure to explore the nearby areas and tick them off your bucket list.
This program will be apt for high school, college as well as university students, gap year travelers, backpackers, corporate groups as well as solo travelers who are keen on making an impact in the developing Indian society.
Duration of the Program: 3 Weeks (Additional Goa Beach Week is available at an extra cost)
Location of Project: New Delhi, Palampur
Minimum Age Requirement: 17 Years
What can you do on weekends?
During weekends, volunteers can visit the local markets, visit internet cafes, and the different restaurants in Delhi and try out the different Indian cuisines. While in Palampur, you will have time to explore the beautiful town and take pleasant walks in the hills as well as practice some Yoga.
Tianyar is a small fishing village in the northern part of Bali, approximately 3 – 4 hours drive from Denpasar. What once was a highly bio-diverse and healthy 3 km coral reef, Tianyar's reef is currently in poor condition due to many years of unsustainable fishing practices with no regard for protecting the marine environment.
After several visits from scientists, conservationists, and divers, an urgent need to protect the reef was identified. To restore and conserve Tianyar's coral reef, this project was started not only to protect its amazing and fragile ecosystems but also to provide a sustainable future for the livelihood of folks residing in this underprivileged village.
Working with LINI (The Indonesian Nature Foundation) to build artificial reef structures such as fish domes, these are deployed along the reef on sampled sand bottom areas. These structures benefit the marine environment because they act as habitats for marine spheres to provide shelter as well as a surface for corals to grow on.
Working with fishermen, local community, and central government to expand, create local jobs, and further improve the coral restoration process – an ideal way to volunteer to restore marine life in Bali.
Duration of The Program: 2 weeks
Location of Project: Bali
Minimum Age Requirement: 17 years
What can you do on weekends?
In Ubud, volunteers can go for leisurely walks in the Ubud market and it'll be a delightful experience. There are hundreds of shops and several restaurants, cheap-eateries, mid-range, and high-end, where local as well as international cuisines are easily available. There are several departmental stores like Circle K or Dewata where one can get almost everything that is daily essentials, like water bottles, frozen food, ready-to-eat food, beverages, snacks, etc. Volunteers can also hire a taxi and can visit rice terraces. During the weekend, volunteers can plan a trip to Kuta or Tanah Lot, or Seminyak.
Tianyar is located on the coast of the Bali Sea. Beach is just at the exit gate of the accommodation. Volunteers can have a bonfire there. During the weekend, they can visit Ubud or they can have a 2 – 3 days trip to Kuta, Seminyak, Tanah Lot, etc.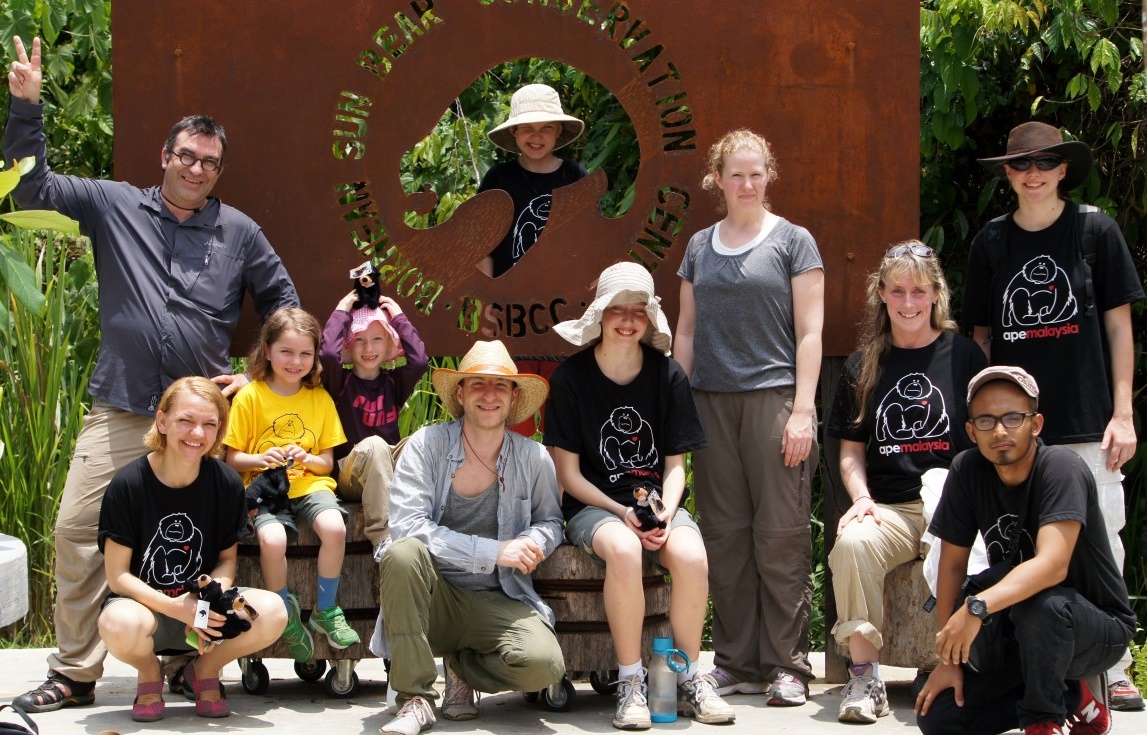 Volunteering Solutions has curated this amazing & affordable Family Volunteer Adventure Program in Malaysia, which will enable you to experience the goodness of local living, apart from contributing meaningfully towards the conservation of the flora & fauna.
As a volunteer, you & your family will get to live amidst the mysterious Borneo Rainforests and work in the region located along the Lower Kinabatangan River.
This wildlife sanctuary is home to singing gibbons, orangutans, proboscis monkeys, sun bears, hornbills, and the pygmy elephant as well as a host of other rarely seen wildlife. You will contribute significantly towards habitat restoration work by planting trees and maintain planting sites important for orangutans and pygmy elephants.
A perfect program for wildlife and nature enthusiasts, one can have a meaningful learning experience as well. It'll be an opportunity for you to get closer to nature, and observe the little things that tourists often tend to miss out on. It'll also be a learning experience for your children, who will learn how to value nature and grow up to be responsible travelers.
Duration of The Program: 1 week
Location of Project: Borneo
Minimum Age Requirement: All age groups
What can you do on weekends?
During weekends, you can head out and explore Borneo's wilderness and spend some time hiking through the jungles. Over the weekends, you can plan a trek to Kota Kinabalu and feel the eeriness of the rainforests. You'll also get to spend time exploring the rural areas, converse with the local people, and get to know more about their lives amidst nature. It'll be worth experiencing.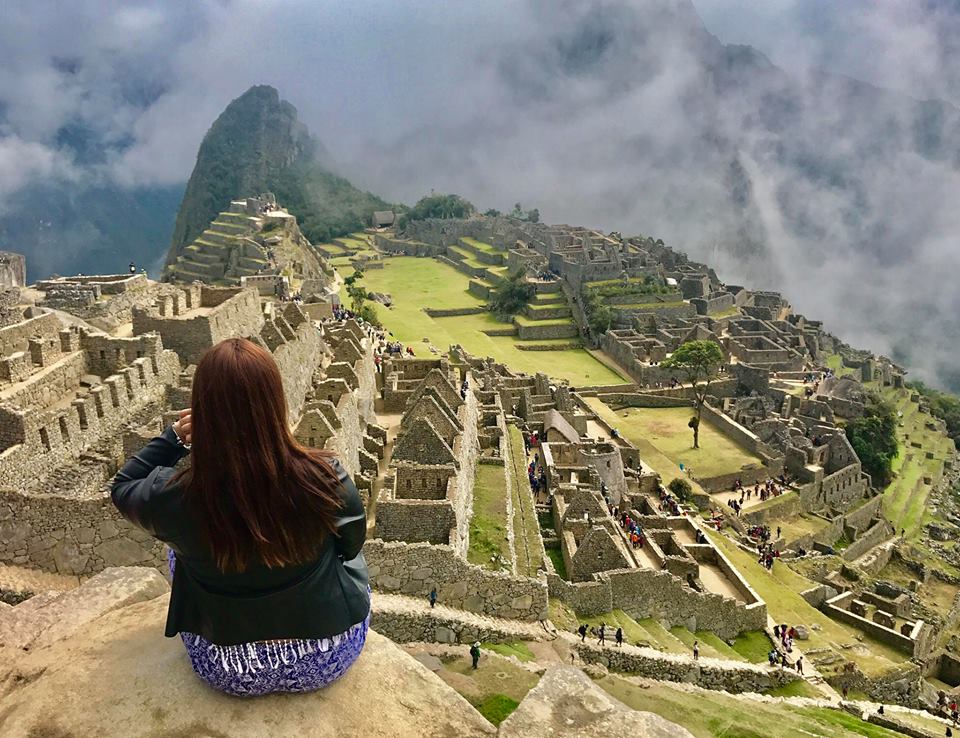 The Summer Volunteer Program in Peru with Volunteering Solutions will make your Summer Break worth cherishing! Engage in some meaningful volunteer work to make a difference in the lives of the people and head out for weekend excursions with your fellow volunteers to Machu Picchu in Cusco and navigate the Amazon River in the Amazonia.
This program is particularly convenient for volunteers who do not have enough time to commit and are looking for 2 weeks volunteering opportunity that would comprise the best which Peru has in store! This program is perfect for college and university students, as well as solo travelers, backpackers, and families who are keen to experience something different.
Duration of The Program: 2 weeks
Location of Project: Cusco
Minimum Age Requirement: 17 years
What can you do on weekends?
Volunteers are free to visit and see places or do shopping during weekends. In the afternoons, volunteers can visit the animal rescue center "Pilpintuwasi" which is 3 minutes by tuk-tuk, visit the houses of the ethnic groups, go fishing, take a walk around the town or visit the houses of the artisans. For weekend trips most of the volunteers plan a trip to Pacaya Samiria, Zoo, to go to the city to hang out with friends or shopping.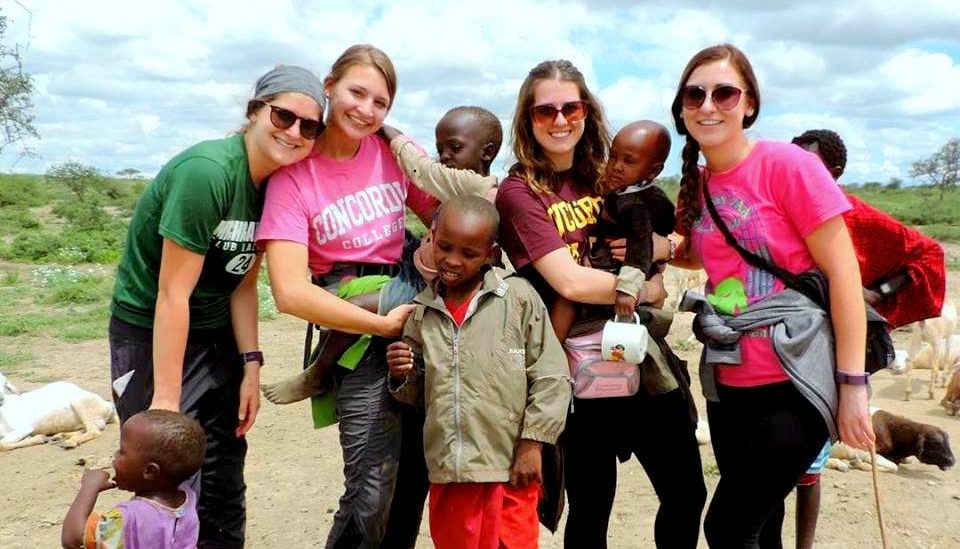 The Summer Volunteering Project in Tanzania will let you explore the country while giving something back to the community. You'll be working at a childcare center in Arusha and also explore the city and places around. Of course, a trip to Tanzania would remain incomplete without experiencing thrilling wildlife game drives, and we'll ensure that you get to spot the Big 5 as well.
In 3 weeks, gain first-hand work experience, know more about the Maasai community, experience the authentic lifestyle, and create wonderful memories. Besides meeting the local community, volunteers will also meet other travelers, backpackers, and do-gooders from all over the world and maybe even find a partner to take a hike in Mt. Kilimanjaro!
Duration of The Program: 3 weeks
Location of Project: Arusha
Minimum Age Requirement: 17 years
What can you do on weekends?
Typically most of the volunteers choose to travel in and around Arusha on the weekends and go for Safari trips. You have the option to choose 2 to 3-day Safari trips to Serengeti, Tarangire, and Ngorongoro. You can also head to Moshi or explore the coffee plantations and waterfalls area near Arusha. Volunteers can also go for short hiking trips near Arusha.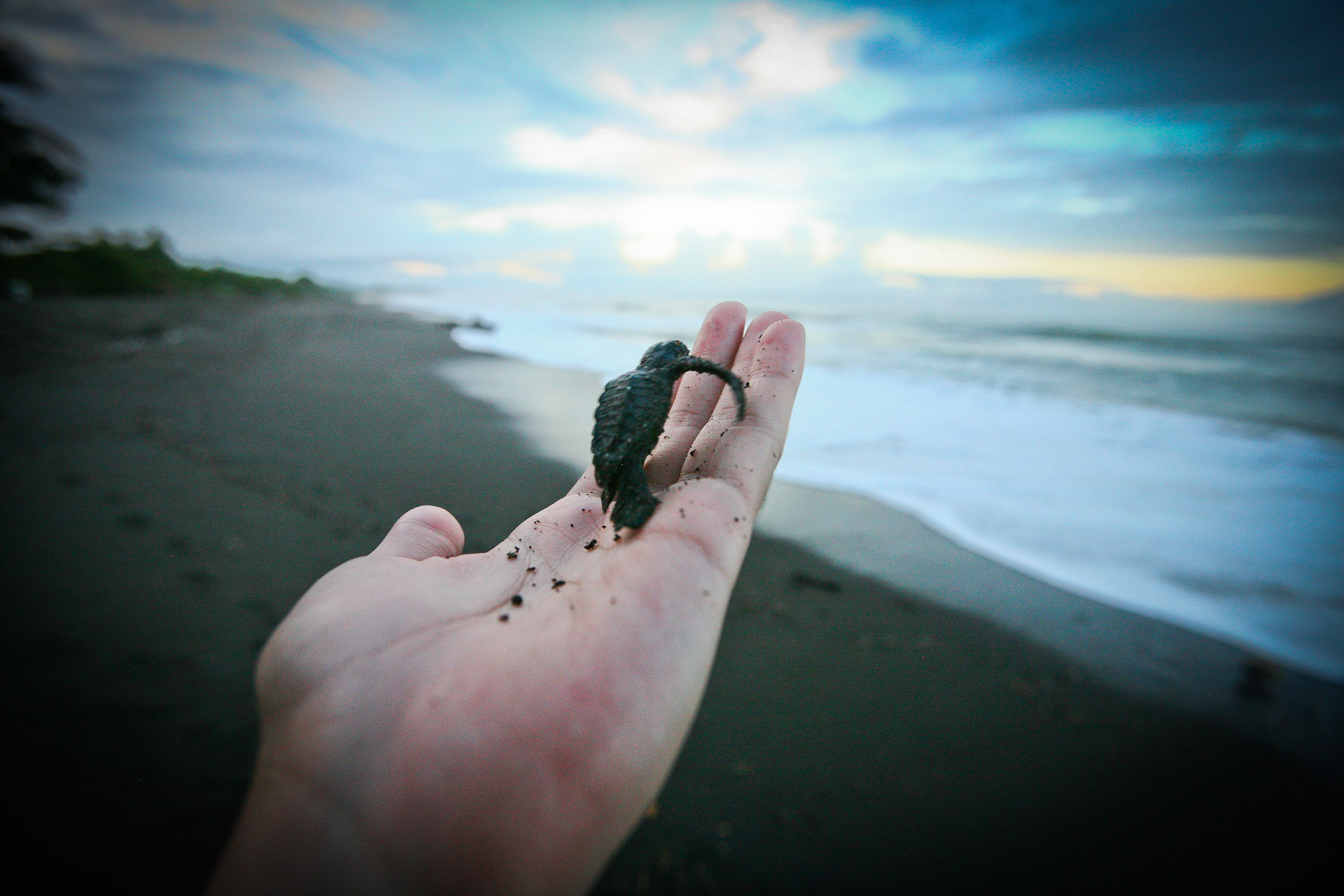 Volunteers in this program work on beaches along the Pacific Coast as well as the Caribbean coast. As a volunteer, you will work on projects intended to protect turtle nests from human poachers, help manage sustainable egg-harvesting programs, and work in hatcheries to ensure Costa Rica's turtle population does not become endangered.
Volunteer work varies from time to time but generally includes work that includes; working with local staff to harvest eggs, beach cleaning night patrolling, counting turtles, collecting eggs, and keeping them away from predators. Volunteer projects are located around five-six hours from the city of San Jose. All volunteers joining this program should be prepared to do hard manual work and should be in good physical condition.
The most important requirements for this turtle conservation volunteer program are Hard working skills, ecological sensitivity, willingness to learn about new cultures, and the most important one: enthusiasm. In most of the projects, there will be a volunteer coordinator in charge of assigning jobs, but you are welcome to help anytime you consider it needed.
Duration of The Program: 1 week
Location of Project: San Jose
Minimum Age Requirement: 18 years
What can you do on weekends?
Volunteers are free to visit and see places or do shopping during their free time. You can explore the local markets or travel to the beaches which can be visited on the weekends. The country offers unparalleled natural beauty, active volcanoes, rainforests, and a wide range of national parks and eco-tourism. Also, Costa Rica has over 1,000 miles of gorgeous white-and-black sand beaches.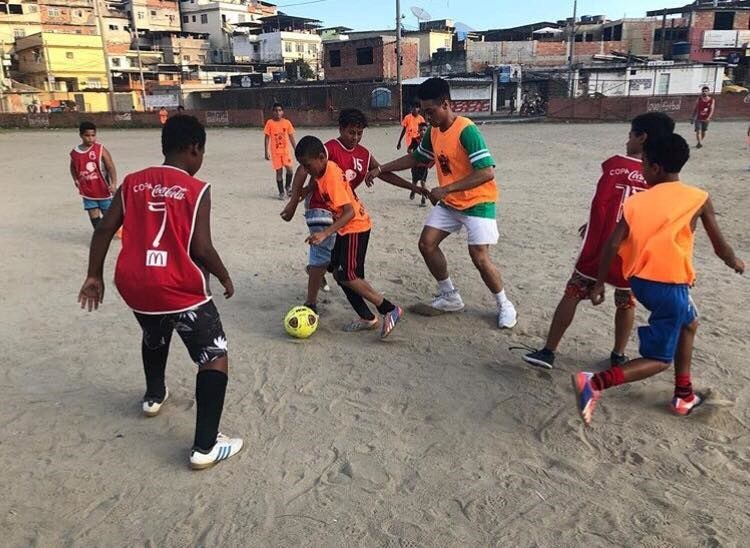 Brazil and soccer have had a link since forever! Known to be a world-class team, Brazil has won the FIFA World Cup several times. This ensures the fact that the youth of the country have a knack for the game. And it's not just soccer – but also other sports including volleyball, basketball, etc.
It is essential to engage the youth in sports as it leads to the empowerment and social inclusion of vulnerable sections of youth. It often ensures a means for employment as well. Besides, it stimulates physical, social, cognitive, and emotional development.
If you are a sports lover and feel the zeal to coach the youth and students (especially those who are coping with post-conflict trauma due to previous realities of drug trafficking), then you can join the Youth Athletic Program and help to educate and empower youth, keeping them off the streets and inspiring them to become active.
You can play an active role in the time of rapid transition in the Complexo do Alemão, and promote sustainable social change for the youth. Some volunteers will also get to take physical education sessions at public schools.
Duration of The Program: 1 week
Location of Project: Rio De Janeiro
Minimum Age Requirement: 18 years
What can you do on weekends?
Rio de Janeiro has so much to offer even for first-time travelers and there is a lot to do on the weekends and during the free time. During free time on weekdays, volunteers usually hang out and relax at the Copacabana beach area or explore the city. Since the volunteers work four days a week, you will have an extended weekend and plenty of time to go out of Rio and explore the other areas in Brazil such as Petropolis and Paraty to name a few.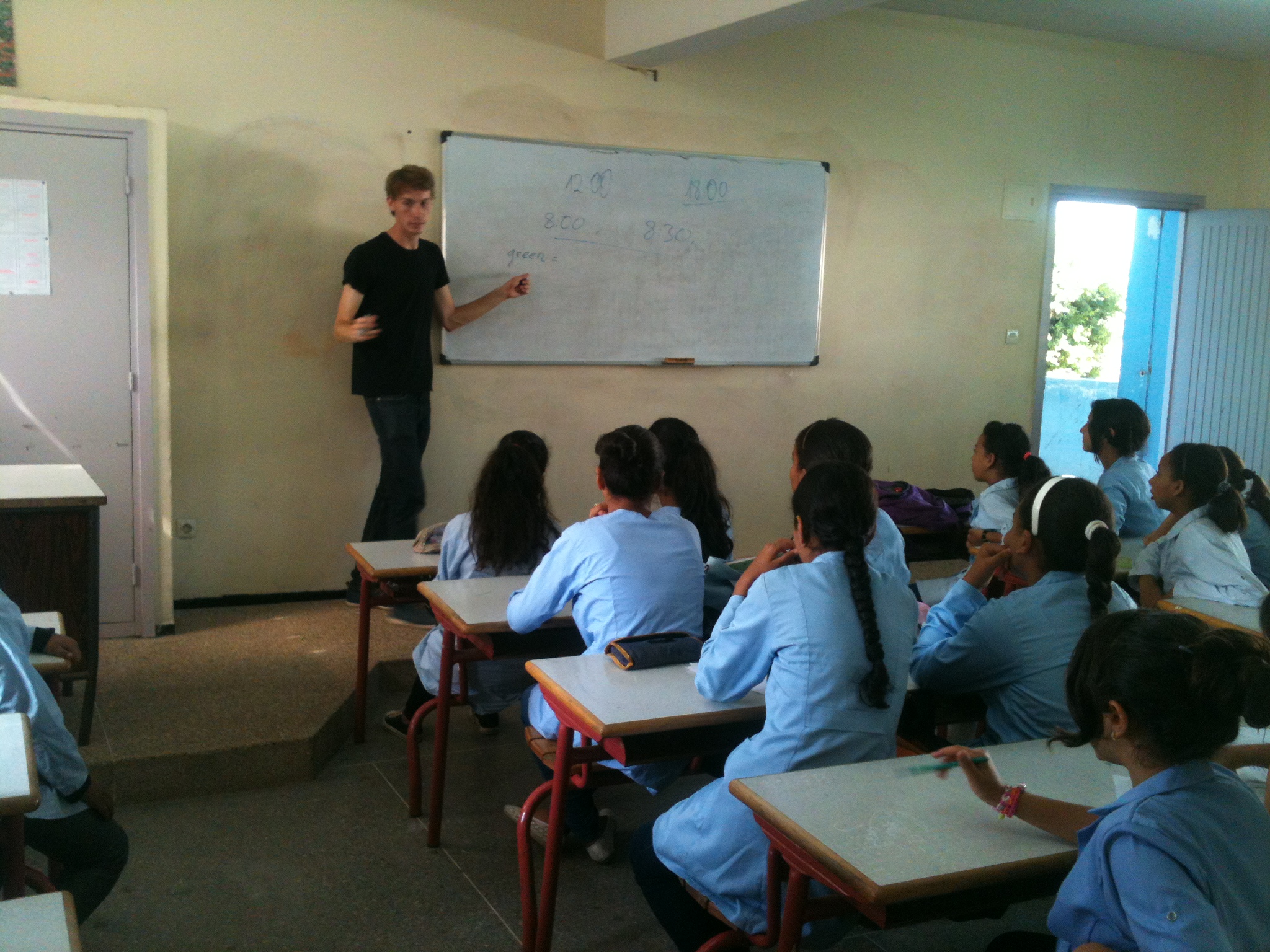 Morocco has one of the lowest literacy rates in the world, even though the government provides free education to children below 15 years of age. Gap year travelers joining the teaching English program in Morocco are placed in the community, NGO, or public schools, which do not have the manpower or resources to provide good English or French teachers to the students. You do NOT need to know Arabic to join this program. You would be teaching children from 10-16 years old with basic to intermediate levels of English or French.
Working in the program would allow you to understand the education system in Morocco and at the same time help out the children in need of a better education. You are open to teaching Math, art & craft, and do other activities while at the schools under this program. Volunteering for teaching English programs in Morocco is a great experience and an amazing opportunity for those looking for international work experience.
Duration of The Program: 1 week
Location of Project: Rabat
Minimum Age Requirement: All age groups
What can you do on weekends?
During the weekdays volunteers usually enjoy roaming around the Medina area where the volunteer Riad is located. You will be located in the heart of the Old quarter area in Rabat which is characterized by small winding alleys and traditional markets. You can visit the Le Tour Hassan mosque or explore the Kasbah Les Oudaias area in Rabat as well. On the weekends, volunteers head out further afield to places such as Fez, Marrakech, or the desert area.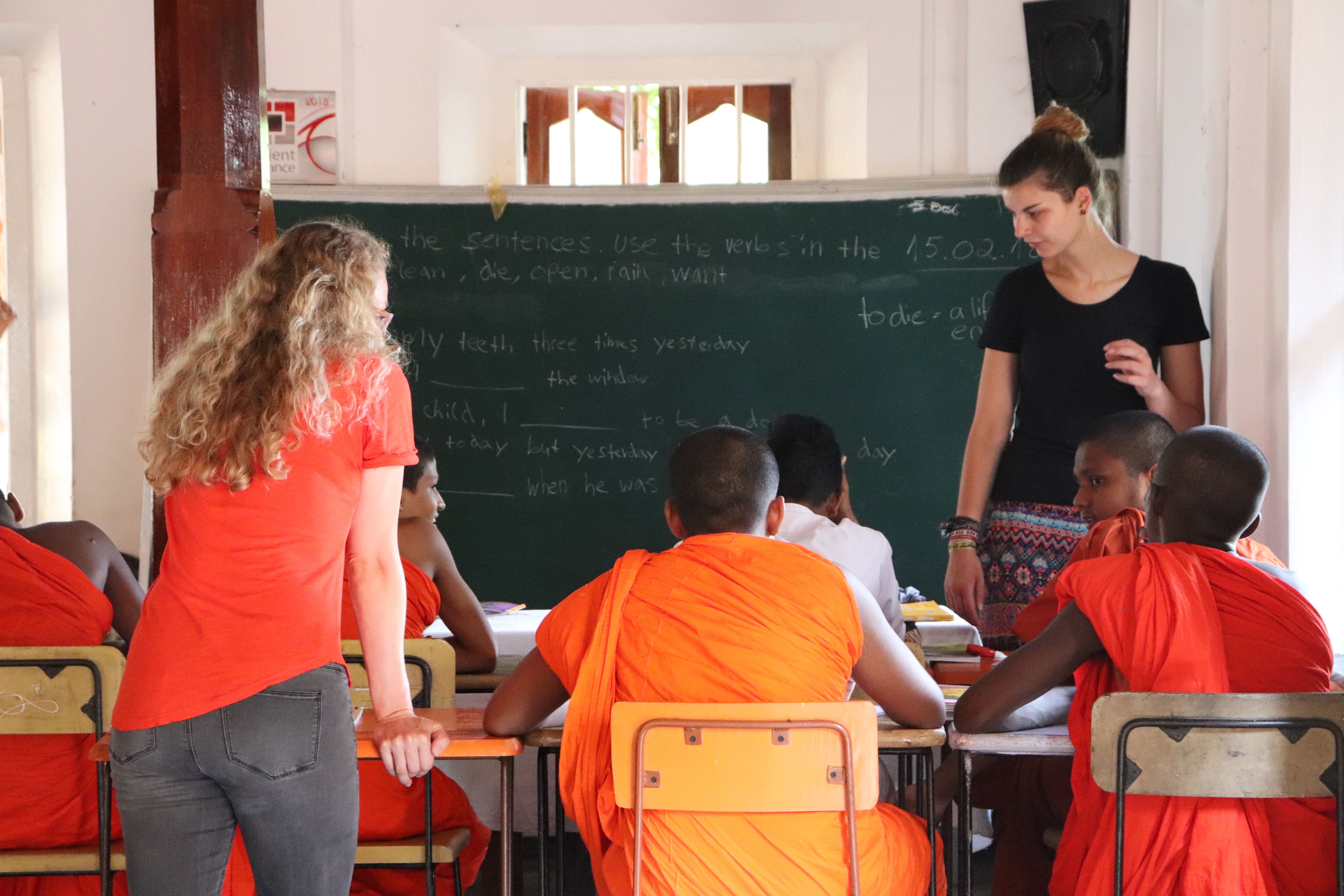 Sri Lanka is one of those countries where Buddhism was spread in its earliest days. It's not just a prominent religion in the nation, but a way of life as well. Being a volunteer for the Teaching Monks Program, you'll be working at a Pirivena, an educational institution of Buddhist monks (a school, you may say).
In this institution, the monks get a holistic learning opportunity, studying different subjects like Pali (an Indo-Aryan language), Sanskrit, history, prosody, astrology, and logic, apart from the scriptures of Buddhism.
The Pirivena is also the place where young monks are trained by their masters to follow the rules and regulations promulgated in the Vinaya Pitaka (a prominent Buddhist scripture) which is one of the three parts that make up the Tripitaka – a collection of Buddhist teachings that are the foundation of the Theravada Buddhist philosophy.
These young monks are highly enthusiastic to learn English, however, they do not have adequate resources to polish their skills. The Government has appointed local teachers who take a 40 minutes class every day, but even the teachers aren't well versed with the language. Hence, being a volunteer, you'll get to play an active role in the Pirivena and teach these bright monks.
Duration of The Program: 2 weeks
Location of Project: Galle
Minimum Age Requirement: 18 years
What can you do on weekends?
There are plenty of things to do during free time and weekends for the volunteers. The following activities are provided free of charge and included in your program fee:
Evening Rooftop Yoga Session (weekly)
Movie nights on a large screen projector at the house (weekly)
Bike tour across paddy fields and local villages (monthly)
BBQ for volunteers and staff in the garden (monthly)
Night Fishing for anyone into fishing (on demand)
The following are popular weekend (or even daily) activities that our volunteers love to do around the area (at an additional charge):
Surfing lessons
Elephant safari
Whale watching (during the season)
Rainforest hiking
Beach hopping
Local cooking class
Galle Walking Tour
Local spice market visit
Galle Fort visit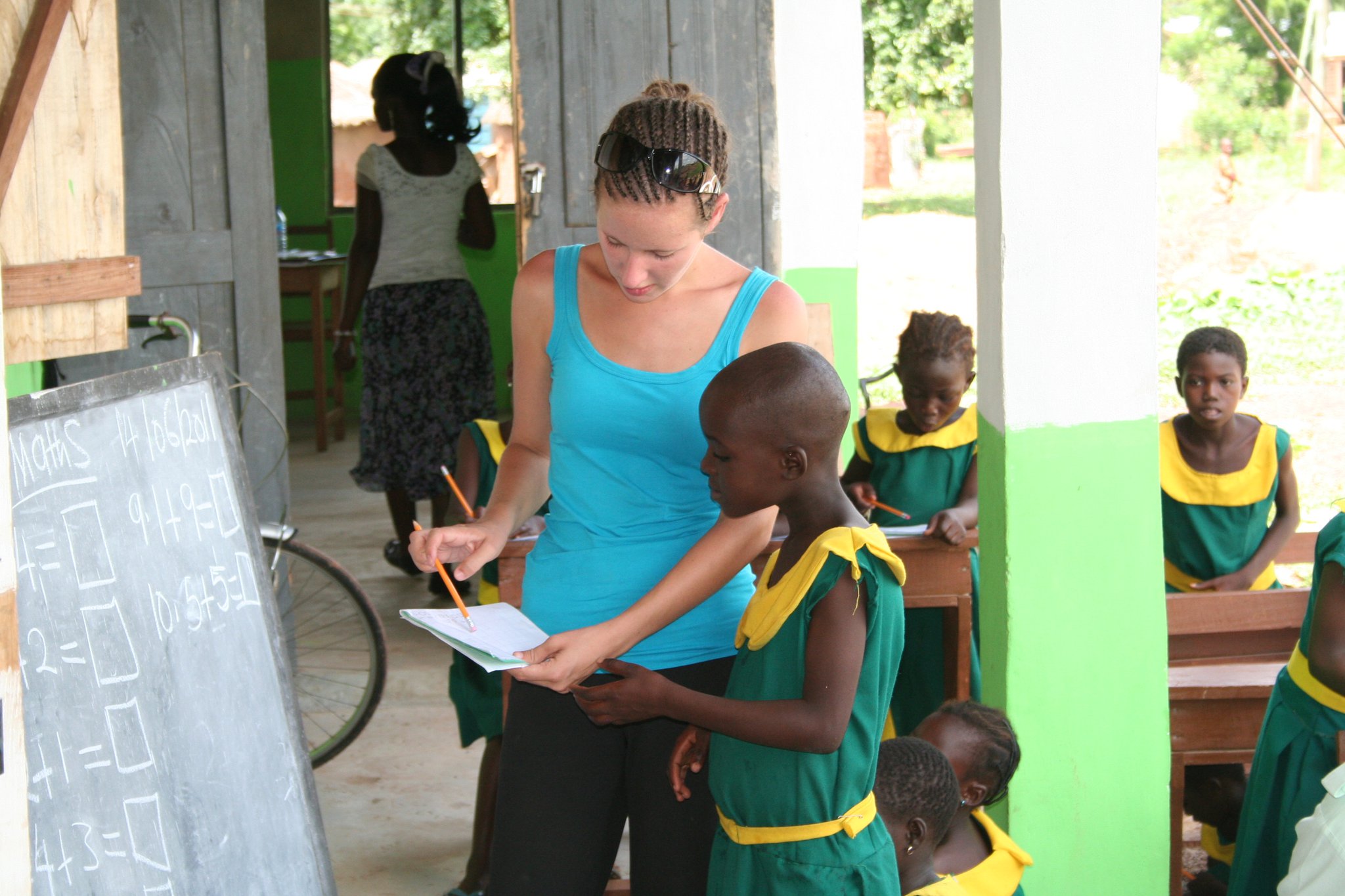 Volunteers working in the Girl's Education Project work in Tamale in Northern Ghana. The mission of this project is to help young disadvantaged females living in an urban village around Tamale. Volunteers work in a school where the main objective is to educate the girl child in the area.
Former volunteers have helped in the project substantially and have raised for the continued education and supply of essentials for the students of the school. Volunteers working in this program need not be qualified or trained teachers. The project is suitable for individuals who want to volunteer to teach during their gap year, summer placement, or career break.
Duration of The Program: 1 week
Location of Project: Tamale
Minimum Age Requirement: 17 years
What can you do on weekends?
On the weekends you can head out to explore places such as Mole National Park and Monkey Sanctuary. Volunteers also visit Paga to visit Crocodile Park or further south to Cape Coast to enjoy the beaches. On weekdays, participants have free time in the evenings and spend time relaxing at their accommodation or socializing with other volunteers and the local people.
The little-landlocked country nestled in the lap of the Himalayas would be a great destination to travel and explore during the summers. Nepal is a beautiful country surrounded by snow-clad mountains and has hundreds of temples making it a paradise on Earth. The 3 week Nepal Summer Volunteering Program is essentially crafted for those who are looking for a summer plan.
Volunteers will get to explore the capital city of Kathmandu and volunteer with the little kids, and also discover the nearby sites of Pokhara, Nagarkot, and Bhaktapur. Those who want to experience some adrenaline rush can travel to Nepal for paragliding, trekking, and river rafting.
Duration of The Program: 3 weeks
Location of Project: Kathmandu
Minimum Age Requirement: 17 years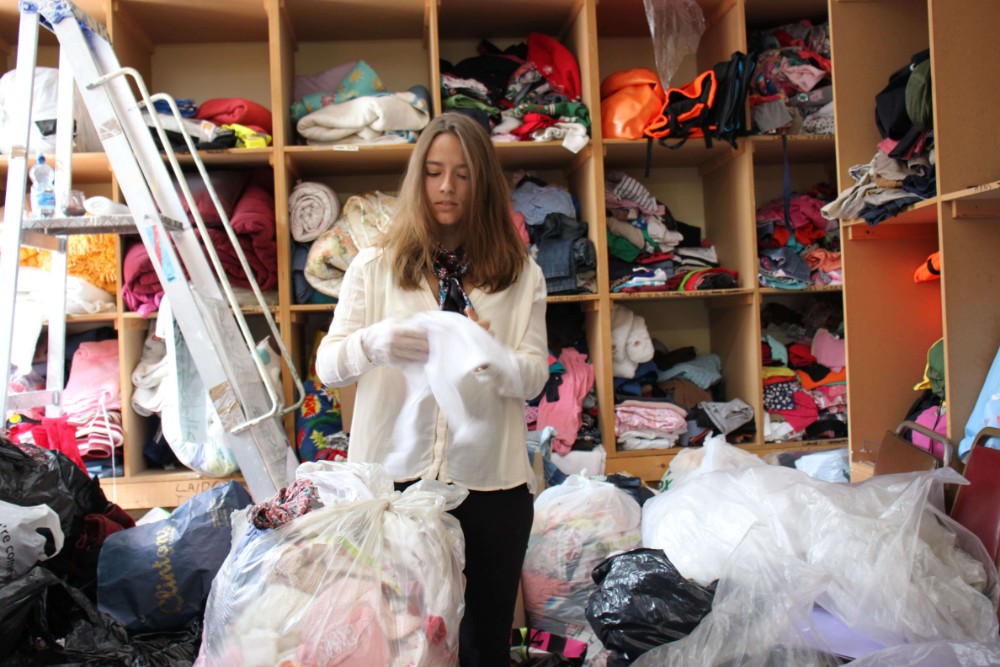 If you have always desired a vacay in Ireland, then now is a perfect time. Work at a charity shop located in Clonmel, the largest town in the County of Tipperary. The project has two locations in the town: a charity shop based on the main street and a sorting office where donations are sorted. Nearby the sorting office, there is also a furniture store, a bookshop, and bric-a-brac, all run by the charity.
The income from the charity shop is the main source of revenue for a charity that visits and provides friendship and financial support to people living in poverty in the region. The work of this charity ensures that everyone can live with dignity. Not only will this be an incredible opportunity for you to learn while working with a team of volunteers and local Irish staff, but it'll also provide you with immensely meaningful work exposure, that will enhance your career in the days ahead.
Duration of The Program: 3 weeks
Location of Project: Clonmel
Minimum Age Requirement: 18 years
What can you do on weekends?
Volunteers will have the weekends to explore. There is always something happening in Clonmel, with frequent theatre, concerts, live music, art exhibitions, and festivals. During your free time, volunteers can discover the countryside around Clonmel, the Tipperary region. They can visit famous attractions such as the Rock of Cashel Castle and Cahir Castle located in nearby towns. They can also discover cities such as Kilkenny, Cork, or Dublin.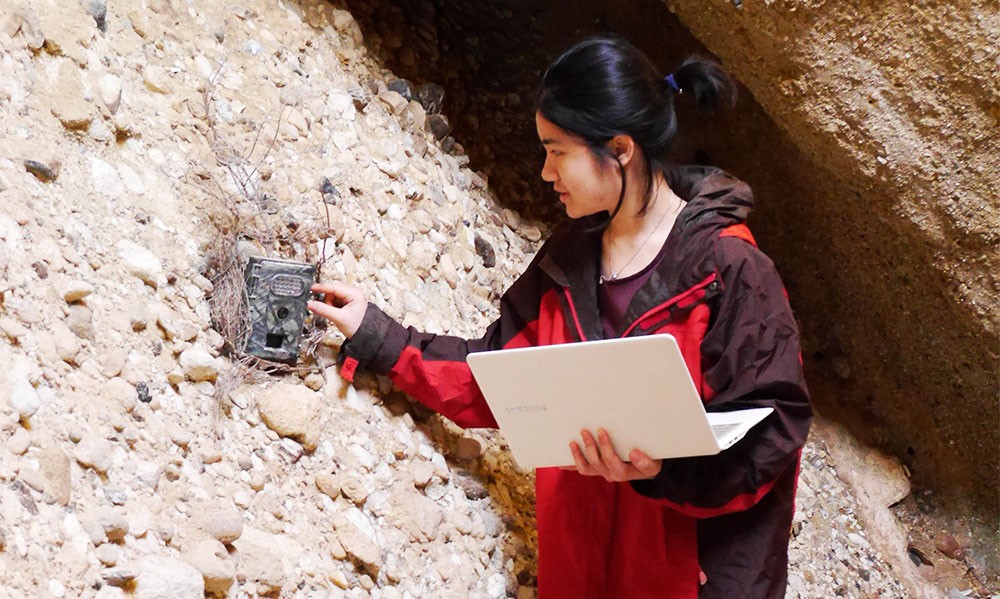 If you love to work outdoors, then this is the perfect opportunity for you to live by the beaches and contribute actively towards the protection of nature and the environment. Being a volunteer for the Wildlife and Environmental Protection in Greece, you'll be assisting the local conservationists, who have been working here for years, trying to control marine pollution and industrial fishing.
Depending on your knowledge or previous experience, each volunteer will be assigned tasks accordingly. You do not necessarily need to have any specialist knowledge. However, you should be committed to being able to think and act independently in a problem-solving manner and be passionate about environmental protection issues.
Duration of The Program: 2 weeks
Location of Project: Ionian Islands
Minimum Age Requirement: 18 years
What can you do on weekends?
During the weekends and in your free time you might have the option to leave the island to explore the villages on the mainland or the local team can help to organize some snorkeling as well for you.
The wait is over! Take a volunteer trip during your summer break and make memories that'll last a lifetime. You can book now for 2023 and we are offering flexible date change options, so you need not worry about that! We're also abiding by all safety protocols, in order to ensure that all volunteers have an incredible & hassle-free volunteering trip.
For more info, get in touch with our Program Advisors – [email protected] who'll be able to guide you better and help you choose the best program 🙂